Friends of Wilby School Association (FOWSA)
FOWSA is an important part of Wilby CEVC Primary School. FOWSA is a registered charity, whereby all parents, grandparents and carers of the children of the school are automatically a member. FOWSA has a committee who meet once a term to organise and arrange various fundraising and enjoyable events throughout the school year. The money FOWSA raises is used to provide the children of the school with the "icing on the cake" items that school budgets are unable to extend to.
Chair - Sophy Croskell
Please scroll down to see details of future FOWSA events planned: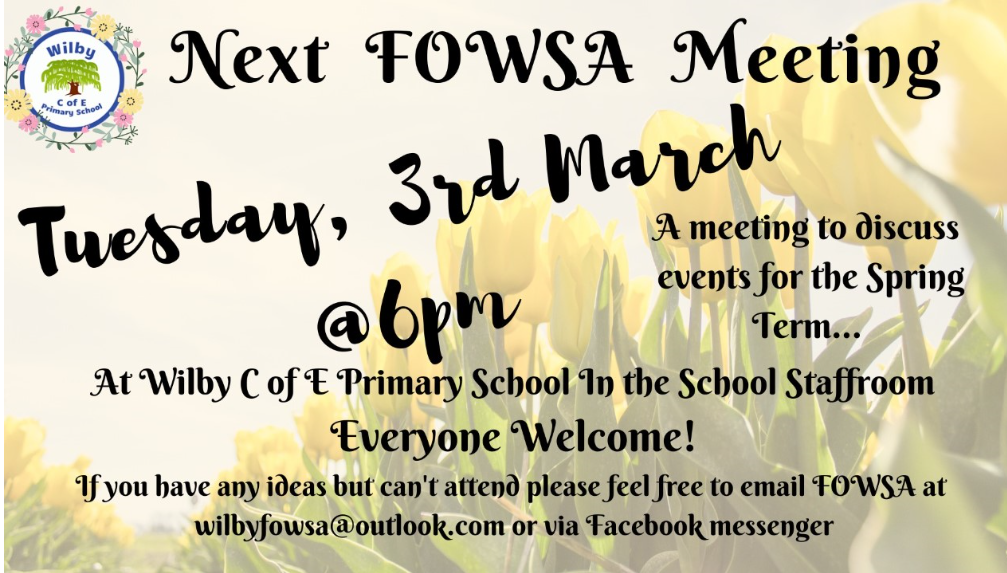 Please read the agenda HERE
FOWSA collect and sell second hand school uniform. Find out more HERE
Please email
wilbyfowsa@outlook.com
for further information.
SECOND HAND UNIFORMS
Did you know FOWSA is collecting and selling second hand uniforms?
We have a few items left from our stall at the summer fayre and will be back at the Christmas fayre with more.
Until then, we will be collecting stock! So if your little one has outgrown last year's uniform and it is still in a reasonably good condition, we are interested!
All proceeds will go to support and enrich our children's school experience.
Donations can be dropped off at the school office.
Thank you.